ECTMarine workboats are heavy duty workboats for different applications in the marine industry. The general design is a multicat type vessel, that can work in shallow waters as well as coastal area's. The vessels are available in different sizes and with a variety of options and in different configurations such as dredge support vessel, supply vessel, carrier, pusher/ tug. The workboats have a spacious deck and are maneuverable to perform activities in confined area's.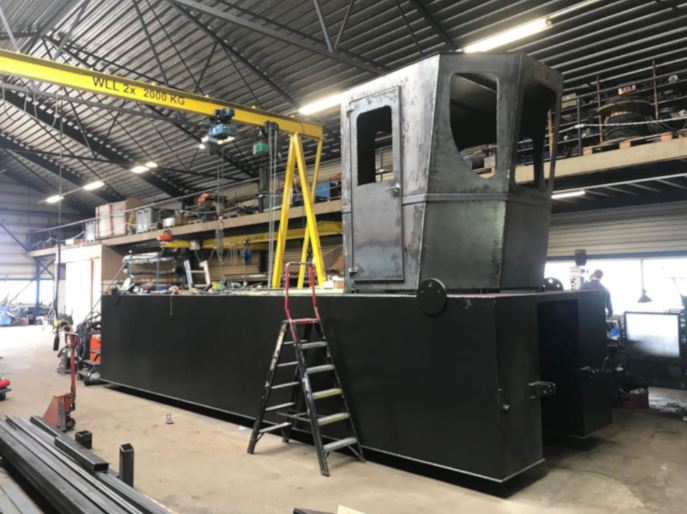 ECT MARINE BV
ENGINEERED PRODUCTS
Propulsion engine: Volvo Penta
Power: 105 kW Stage 5
Propellers: 1x 4 blade fixed pitch propellers
Steering system: hydraulic plate rudder
Length overall: 9 m
Beam: 3 m
Depth at side: 1,2 m
Draught: 0,7 m
Anchor handeling winch
Pull first layer: 20 kN
Towing bitt
Wooden work deck
Alternator: 24V DC
Quantity: 1x
Capacity: 1x 60A
Quantity: 2x
Capacity: 200 Ah
Compass, VHF, Fire extinguisher
Navigation and interior lights
Electric bilge pump
Internal cooling system
Hydraulic system powered by main engine
Grease pump and tool kit
Tank capacities
Fuel oil: 3 m3
Bollard pull: 1 ton
Speed (approx): 7 knots
Deck crane (SWL): 5 tm
Holland Register
Inland Water Vessel Directive
2006-87 EU zone 2
The hull is a fully welded, longitudinally stiffened
The main marine engine with reduction gearbox is located in the engine room.
Propulsion of the workboat will be realized by a fixed pitch propeller.
Steering is with plate rudder and powered by hydraulic steering gear.
The wheelhouse is constructed of steel and has acoustic and thermal insulation.
Diesel generator 230V with main switch board
Anchor mooring winch
Radar system
GPS